C3PO – Star Wars 1983 Kenner (AFA Graded)
1 in stock
$150.00
1 in stock
A Long Time Ago In A Galaxy Far Far Away…
This 1983 Kenner Star Wars C3PO is a great piece. Based on the characters seen in Star Wars this Action Figure would be a great item to add to any collection!
This C3PO has been AFA Graded with a Rating 8.0.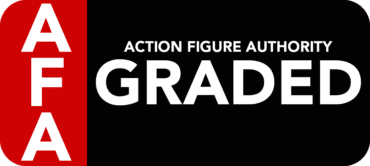 *Note that the image of C3PO outside of the Acrylic Case is a stock image, the figure listed here has always been in the Acrylic Case while stocked with Toy Nerds
Add to Wishlist
| | |
| --- | --- |
| Weight | 0.4 kg |
| Dimensions | 12 × 5 × 6 cm |
Only logged in customers who have purchased this product may leave a review.
$

550.00




Here is the loveable furball from Kenner's 1983 Return of the Jedi, Star Wars Line. This Chewbacca is molded to resemble the character from the film with the best 1980s sculpting that the 80s could afford.  1983 saw the release of the 3rd and at the time the final Star Wars movie. To coincide with that film Kenner released all new figures.

This particular figure is AFA graded with a score 80. Its near perfect for its age with only a slight yellowing to the bubble and a notable sticker from the toy store that didn't realize how valuable this toy would be. Lastly those black marks on the back are on the original packaging and were used to cover up the secret figures that Kenner had yet to release.

This figure comes in the clear acrylic box to keep the AFA Graded score. It is a classic and a collectors item. We have given the Kenner Chewbacca figure a Toy Nerds Silver Rare sticker as finding something as awesome and as well preserved will be a challenge.

$

599.00




He goes where no ordinary rabbit would dare! Bucky O'Hare and the crew of The Righteous Indignation can be yours with our complete 10 Figure First Wave of Hasbro's Bucky O'Hare Line.

Season One of the cartoon "Bucky O'Hare and the Toad Wars" aired on TV in the USA in the fall and winter of 1991. These Figures were originally released alongside the classic 1991 TV Series This incredible set includes all Ten Figures

Bucky O'Hare
Dead-Eye Duck
Willy Du Witt
Bruiser
Commander Dogstar
Toadborg
Toad Air Marshall
Storm Toad Trooper
Al Negator

These carded figures are in mint condition and this complete set is considered RARE. This set has been given our Bronze Rare Stamp
$

130.00




A Long Time Ago In A Galaxy Far Far Away…

This 1985 Kenner Star Wars Royal Guard is a great piece. Based on the characters seen in Star Wars: Return of the Jedi this Action Figure would be a great item to add to any collection!

This Royal Guard has been AFA Graded with a Rating 8.0.


*Note that the image of the Royal Guard outside of the Acrylic Case is a stock image, the Royal Guard listed here has always been in the Acrylic Case while stocked with Toy Nerds